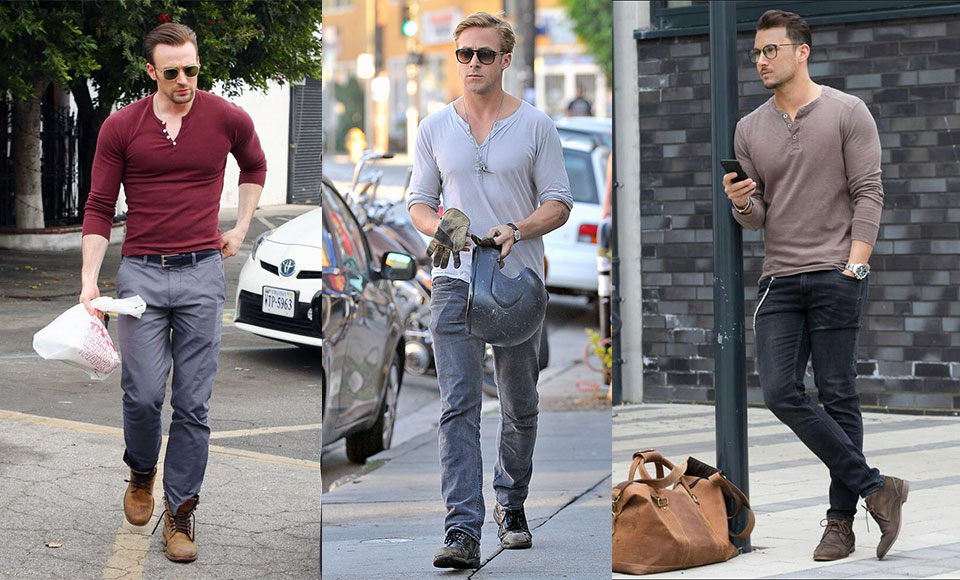 T-shirts are comfortable clothing items for both men and women, worn in different places because of their versatile use. A t-shirt can be paired with many kinds of bottoms. Most of us prefer to have black t-shirts and white t-shirts for their universal appeal. T-shirts come in various colours, shades, patterns, and collars. If your wardrobe needs style uplifting, we've listed a few must-have kinds of t-shirts to make the selection process manageable.
Types of t-shirts
T-shirts are of many types, and you must choose based on your body type, the weather you live in, and most importantly, what you like to see on yourself when you look in the mirror! Here are some t-shirt-style references laid out for you.
Henley t-shirts
These t-shirts are round-neck t-shirts without a collar. They have buttons for the upper part to ease the task of taking them off or putting them on. The button strip on them has 3 to 5 buttons that are almost half an inch apart. Initially, they have a round neck, but some keep the uppermost button open, giving the neck a round plus v shape. These have long or short sleeves. They are generally lighter in weight and more casual in style. Pair them with a nice pair of jeans, and you are good to go. 
Polo t-shirts
Polo t-shirts are collared t-shirts that have buttons on them. Buttons are not for the entire length but the upper part only. Polo t-shirts were used while playing polo and hence got the name. They are still popular. The Polo t-shirts are considered semi-formal. Many also pair them with pleated trousers, though they look equally good with jeans. Polo t-shirts can also be used to make logo t-shirts for businesses and offices. These t-shirts are worn as office attire on semi-formal or casual days. This versatile t-shirt comprises cotton, polyester, a mix of cotton and polyester, and many other fabrics.
V-neck t-shirts
As the name suggests, V-neck tees have a v-neck, and they can be full sleeves or half sleeves. Many times, V-neck t-shirts are worn under jackets or shirts. They come in many colours, but generic colours are preferred if worn under a shirt or sweater. The materials are cotton, polyester, or a mix of both. They are casual wear and can be paired with casual trousers like jeans. They can also be paired with the Bermudas if an informal half-sleeve shirt is paired with them.
Crew neck t-shirts 
Crew neck t-shirts are round t-shirts without any collars. They can be printed or plain. Crew neck t-shirts are probably the most popular choice in casual t-shirts, and they are worn with a simple shirt left open or on their own. Many crew neck t-shirts come in funky designs. They can also be used for logos in informal settings other than the office. Many colleges use such t-shirt prints for alums.
T-shirts are an integral part of anyone's wardrobe. Some styles are necessary to vitalise the outgoing other than office wear, and t-shirts come under that category. Go for one piece of all types or just the one in different colours. Jack & Jones has a superb collection of t-shirts you must check out! Browse now!