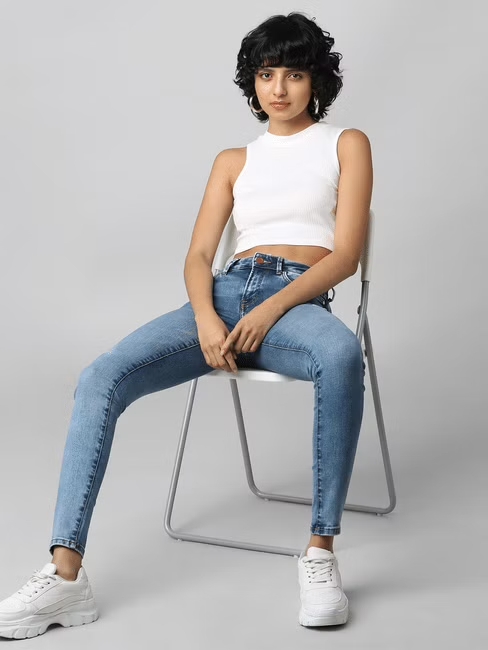 From Skinny To Bootcut: Exploring The Different Types Of Jeans
Denim is the ultimate wardrobe staple, offering style and comfort in one package. From the classic skinny to the trendy bootcut, there is a perfect pair for every body shape and fashion preference. Delve into the world of denim and explore the various types of jeans for women, including the popular offerings from the renowned brand ONLY. Find your perfect fit now!
Skinny Jeans: Sleek And Versatile
Skinny jeans are a timeless favorite, hugging the curves and providing sleek, flattering silhouettes. Ideal for casual and dressier occasions, these versatile skinny jeans for women can be paired with anything from oversized sweaters to flowy blouses, making them a must-have in every fashion enthusiast's collection.
Bootcut Jeans: Classic And Elegant
Bootcut jeans feature a slight flare from the knee down, adding a touch of elegance to any outfit. These classic jeans complement all body shapes and are perfect for creating a polished and balanced look. Pair them with heels or wedges for added height and sophistication. 
Wide Leg Jeans: Retro And Chic
Embrace vintage vibes with wide-leg jeans, which offer a relaxed and chic style. These jeans and baggy jeans are wider from the waist down, creating a flowy and comfortable fit. For a modern look, tuck in a fitted top or style them with a crop top to balance the volume.
Ripped Jeans: Edgy And Effortless
Ripped jeans exude an edgy and effortlessly cool vibe. Whether you prefer a few distressed patches or full-blown ripped knees, these jeans add a touch of rebellion to any ensemble. Pair them with a graphic tee and sneakers for an ultimate street-style look.
Anti-fit Jeans: Relaxed And Fashion-Forward
Anti-fit jeans are the epitome of casual chic, offering a loose, relaxed fit. These jeans are perfect for those seeking a fashion-forward yet comfortable option. Style them with a tucked-in blouse or crop top for a balanced, trendy outfit.
Comfort Jeans: All-Day Ease
As the name suggests, comfort jeans prioritise ease and wearability. These jeans often feature stretchy fabrics and elasticised waistbands, making them ideal for long days and travel. Dress them up or down, and you are ready to conquer the day with style and comfort.
Regular Jeans: Classic All-Rounder
Regular jeans strike the perfect balance between comfort and style. With a mid-rise waist and straight legs, these jeans are a wardrobe essential for everyday wear. Versatile and timeless, they pair effortlessly with any top or footwear.
Slim Jeans: Flattering And Modern
Slim jeans offer a narrower fit than regular jeans, accentuating the curves without being too tight. These stylish jeans suit everyone and are perfect for casual or dressy occasions, whether put up or down. Add a blazer and heels for a polished office look or a leather jacket for a chic street-style ensemble.
Conclusion
From the figure-hugging skinny to the elegant straight jeans, exploring the diverse types of jeans offers endless possibilities for creating fashionable and comfortable outfits. With the renowned brand ONLY, you can find a wide range of trendy and high-quality jeans to suit your style.