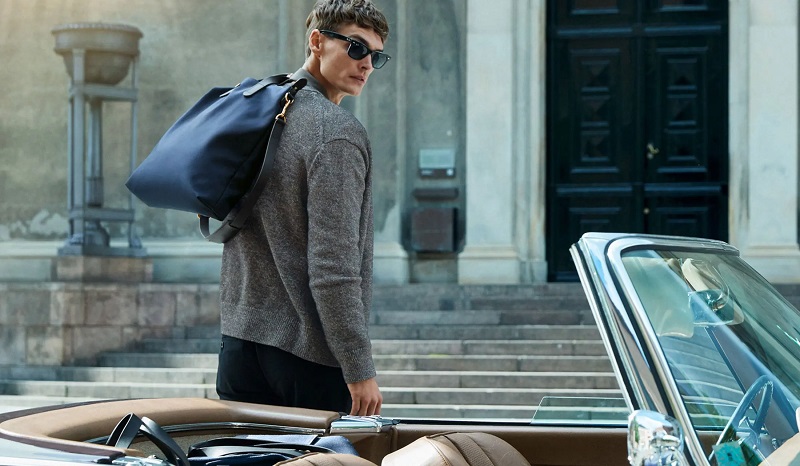 Top 10 Stylish Men's Accessories In Leather For This Summer
With the idea that summer means wearing things light and keeping them to the minimum, accessorizing during the time might seem counterintuitive. But bear with us. Just because the temperature is soaring doesn't mean you have to say goodbye to fashion. So here is a list of ten items mainly some of the latest leather accessories for men you can use this summer to up your fashion game from Dynacart.
Leather Magic Belt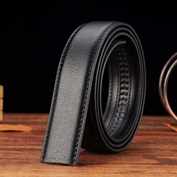 Get a formal black belt with an automatic ribbon waist strap without buckle for $3.64. The detailed stitching makes it an elegant piece of item. Also, the card slot design with elastic tooth makes it perfect for adjusting the waist size easily.
Leather Necklace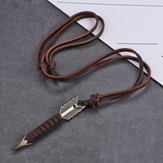 Accessorize your outfit with one of the trendiest leather necklaces on the market. The arrow-shaped pendant made of zinc alloy makes it long-lasting so is the leather necklace. It is an ideal add-on for a day on the beach or a casual party to elevate the oomph factor. Get the necklace for just $8.33.
Leather Gloves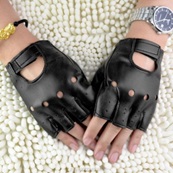 This summer, open knuckles anti-slip leather gloves are ideal for skateboarders, motorcyclists, rollerbladers, fishermen, guitar players, etc. The gloves give you easy access to work on your mobile devices with touch screens without putting the gloves off. In addition, it is easy to wear with magic sticker closure. Get these black pairs of leather gloves for just $12.86.
Leather Magic Wallet
Why not have some fun with your wallet among your friends. Get this ultra-thin leather mini magic leather wallet. It comes with multiple zippers to keep your coins and cards safe, while you can also show a bit of magic with the purse. You have to spend just $13.24 on the item.
Leather Vintage Bracelet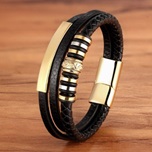 Are you heading to a beach party, a casual outing with your friends, a pub, or a night out? Add another element of style by accessorizing your outfit with a genuine leather bracelet for men. The magnetic clasp makes it easy to wear, and the braided multi-layer adds funk to your style. Get them in silver or golden beads at $20.43/
Sunglass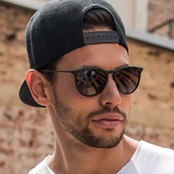 Did you think round cat-eye sunglasses are only for women? Not anymore; get these retro shades men's sunglasses at $7.30 in five different colors. The ergonomic nose pads and the lightweight make it comfortable to wear. In addition, it is a vintage-looking sunglasses ideal for protecting your eyes from the sun.
Shoulder Bag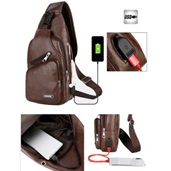 Get the latest and trendiest men's leather shoulder bag that can be used as a crossbody bag and backpack. Available in tan, brown, and black colors come with convenient USB portable charging. The bag also has earphone holes to place the smart device inside the bag for hands-free listening. The wide straps of the backpack make it comfortable to use. This multipurpose bag is available for only $12.48.
Titanium Ring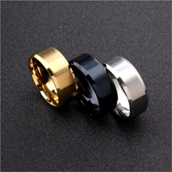 Want to up the game and look stylish with some new accessories? It is time to place a titanium stell ring, the most-in-trend wedding band for men. Most celebrities are sporting it, so why not you without making a hole in the pocket. Get these titanium steel bands for just $6.44 in three colors – Black, gold, and silver.
Sailor Cap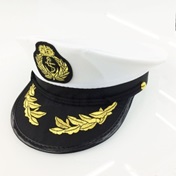 Taking a boat or a yacht ride this summer? Why not dress like the captain of the boat with the boat skipper sailor costume hat. The detailed embroidered hat is available in Yacht Military, Boat Skipper, Captain, and Navy-Marine at only $14.25. Also, it is made of cotton blend, making it ideal for sweat absorption during summer outings.
Tie, Cufflink & Pocket Square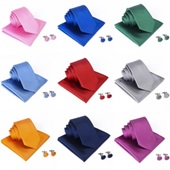 Get a set of men's ties, cufflink, and pocket square at an enviable price of $6.28. The product from Xgvokh is available in nine different colors. The jacquard tie, matching cufflink, and handkerchief make it a perfect choice for any formal, party, or celebratory occasion. Anyone wearing them will look stylish.
Wrapping Up
Beat the summer heat, and don't be dull with uniformity with your dressing by adding some of the best accessories offered by Dynacart. The online store offers a range of items with great summer deals to elevate the style game and your outfits.