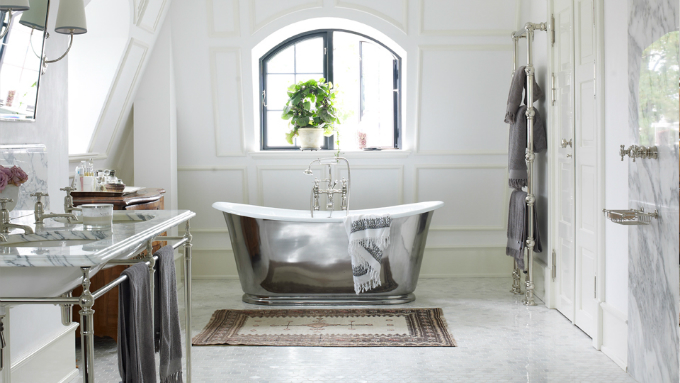 Reimage Your Bathroom Space with a Luxury Freestanding Tubs
Freestanding bathtubs are bespoke accessories for large bathrooms. Especially for those who love a touch of luxury, freestanding bathrooms can truly add definition to these rooms. Although there is a versatile range of freestanding tubs to choose from, it can get quite perplexing after a point. That is why it becomes prudent to pick ones that match the overall look of your bathroom and amplify its aura.
Here's to reimagine your bathroom space with luxury freestanding tub designs that truly surpass all others.
1. Minimalist Freestanding bathtub
Less is more. With this thought in mind, choosing a minimalist freestanding bathtub becomes easier than ever. These bathtubs are classy, elegant, and timeless classic. As their name implies, they are all about minimalistic designs and interiors that are very spacious. So, when you are looking for sufficient amounts of comfort, relaxation, and modernity, opting for these tubs becomes a wise option.
2. Sculptural Freestanding Bathtubs
Sculptural designs are a true statement piece for your modern and luxury bathroom. When you want to break out of conventional designs, these bathtubs can provide a fresh new outlook altogether. They look gorgeous from each angle you view them and offer a curvaceous appearance that is smart, sophisticated, and modern.
3. Black Freestanding Bathtub
There is nothing more classy than a Black bathtub. They provide a matte finish and a dramatic effect that speaks volumes of luxury. It can also help amp up a boring white bathroom right away by adding the right pop of color. It can also be useful for providing heat-resistant features for convenience.
4. Concrete Freestanding Bathtub
When you are looking to go overboard and elevate the luxury in your space, concrete freestanding bathtubs can be a great pick. They are best for outdoor spaces when you want to bask in the sun and yet be in the cool waters simultaneously.
Concrete freestanding bathtubs can also be both scratch and stain resistant, which allow you to make the most of them without worrying about their sustainability. They also offer long-lasting heat resistance to you. These can also quickly become admirable statement pieces in your home exteriors. So, do not miss out on buying them.
5. Black and Gold Freestanding Bathtubs
A fusion of Black and Gold, these freestanding bathtubs are the truest definition of what luxury looks like. These artistic pieces are the best way to elevate the aesthetics of your home without going the extra mile. The enviable appearance they offer will make everyone ask you about these freestanding tubs time and again. In fact, they can be very well installed in large bathrooms where you want to boost your statement bathroom pieces for an over-the-top experience.
What's Your Favourite Freestanding Bathtub Design?
There is no end to creative freestanding bathtub designs that you can choose from. The ones we have mentioned above for you are especially useful, though. They are made of elevated designs that provide the right touch of elegance and luxury in need. So, go ahead and make your choice now from this amazing range of bathtubs above. You are bound to love all of them.