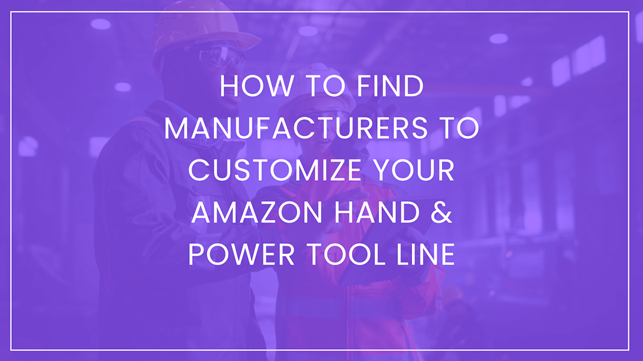 How To Find Manufacturers To Customize Your Amazon Hand & Power Tool Line
Starting a new Amazon tool or power line can seem daunting, but finding the right manufacturer and supplier is essential. How do you know where to start?
By following this guide, you will be able to find an experienced manufacturing partner who can take your ideas from concept all the way through to production.
They'll take care of turning your innovative ideas into reality by providing support at every stage, including design consulting services and mass production, while you can focus on the all-important aspects of growing your business.
What is a Manufacturer?
Competition in the world today has never been more fierce. You need an edge to stay ahead, and that is where reliable manufacturers come into play. They're responsible for crafting raw materials into high-quality finished goods that meet household customers' demands as well as wholesalers', distributors', merchants', or even other manufacturers' needs.
For example, Diversitech Global is a reliable power tool manufacturer who specialises in hand and power tool lines and ranges. Create and build what you need and specify while also obtaining the most affordable production costs by working with them directly.
What is a Supplier?
Suppliers are the backbone of any business. They provide you with all your supplies, whether it's inventory or just raw materials for manufacturing processes—without them, there would be no way to get things done!
They include wholesalers, distributors, trading firms, and drop-shipping businesses that buy already-established brands and goods. And, of course, manufacturers/factories themselves that sell directly to retailers.
However, not all suppliers are manufacturers, though they do both provide products to customers. For example, some are actually factories that manufacture products, and others only offer services like logistics, warehousing, or distribution. This is especially true when looking for manufacturing in other countries.
Tools For Locating Manufacturers
If you want to make your new product idea a success, finding the proper manufacturer is key. They will be able to control what parts are needed for production and how much they cost per unit with their base pricing knowledge.
It's also important that they have experience working closely with clients, as there may come times when demands change or deadlines need pushing back because of unforeseen circumstances.
It's one of those things you just don't take lightly, and finding an appropriate manufacturer can be tough. Here are some resources to help guide your search.
Online directories of manufacturers
When you need a manufacturer for your products, there is no better way than to use an online suppliers or B2B directory. These sites have thousands of manufacturers with different capabilities and qualities, so they'll be able to produce what's needed at any time.
Global Sourcing Specialists (GSS): If you wish to hire a factory abroad, whether for mass manufacturing or small-scale production, this is a terrific resource.
Alibaba is a fantastic place to explore for international manufacturers. Choose suppliers who best satisfy your needs by using the website's navigation tools.
MFG.com: Manage your projects, choose a manufacturer anywhere in the globe, maintain tabs on their development, and much more.
ThomasNet: With access to more than 500,000 commercial and industrial vendors, finding specialized production and manufacturing firms is now easier than ever.
Referrals or networking
Ask around for any referrals or advice from people in your professional network. If they've had success with projects similar to yours, maybe these individuals could help get things going – especially if there's someone specific who might be able to give better guidance.
The manufacturer may know of other similar businesses that can help you. They'll be able to point out which companies have what it takes based on their experience in this field, even if the original company doesn't offer those services themselves.
Third-party forums and social media
The Internet has made it easier to find the right people and make connections. Join company owner forums on Facebook, Glassdoor, or LinkedIn where customers discuss their experience with a business in an honest way that can help you decide if this is something worth investing your time into!
Search engines on the web
You will have to be specific when searching for manufacturers of a certain product type. You should also take into account your search keywords and have broad knowledge of what type of product is needed, otherwise the returned search results will be long and mainly irrelevant.
Try to combine the name of your product, its category, or its intended application with search terms like "manufacturer," "global supplier," or "factory." For instance, you should look up any comparable terminology because phrases like "tool kits," "DIY power tools," and "home DIY" may be used interchangeably.
Final Words
Hunting down a reliable manufacturer for your next Amazon hand and power tool ideas can seem like an impossible task. However, we've outlined just some of the most common methods here to help you find reputable companies that will produce quality products that meet all your needs and specifications.
With some legwork and patience, you can find the perfect partner for your new venture. A good starting point is to do research on available manufacturers in order of importance or value they bring with them; then contact those who seem most interested before moving on to other steps, such as pricing discussions.
Achieving success requires a lot of time-consuming work, but it will be worth all your efforts when you finally accomplish your goal!